Being Uncomfortable infront of a camera
I recently received a lovely thank you email from one of my many brides who does not like having her photograph taken. In the email she said "I became photogenic for a day thanks to you" which got me thinking.
How many brides are nervous about being photographed?
Several brides and sometimes grooms have said how nervous they are about being photographed and when I asked why they said it's because they never look good in photos. It's often said part way through chatting about their wedding day ideas and plans. Without exception they said how much they like their photographs, how good they look in their pictures, how special they felt when their photographs were being taken and couples are always surprised by the amount of photos they didn't know had been taken on the day. Don't forget to get your dress on https://serendipitybrides.co.uk along with other wedding details you'll need.
If your photography is important book a professional
One particular bride, Elisabeth, springs to mind from back in 2006 when she wrote this in an article about why she chose me to be her photographer, "When you look at his photography you feel like you know the couples in the pictures even though you have never met them in your life." This, to me, is what professional wedding photography is all about; capturing the personalities of all the people at the wedding especially  the bride & groom of course.
Brides want to look amazing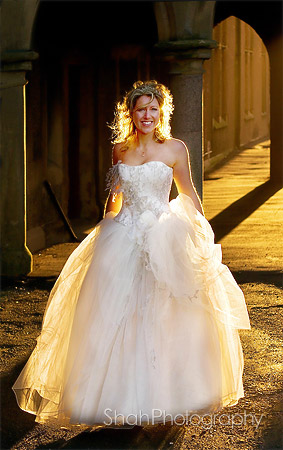 Here's  a shot of Elisabeth looking gorgeous; she said she felt so relaxed and at ease with me behind the camera.
There are so many aspects to photography in particular wedding photography; emotion, art, creativity & my own natural lighting techniques which work together to create the all important story of the emotional roller coaster so many couples go through during their wedding; nerves, tears of joy and laughter. I'm here to help you relive them forever and look amazing.