Sassi Holford designs wedding dresses and bridal gowns from her design studio in Somerset sold at her beautiful shop at Fulham in London.
Wedding dress designer, Sassi Holford designs gorgeous wedding dresses and bridal gowns. I photographed a bride who chose one of Sassi's stylish gowns and looked amazing the fit was absolute perfection. Sassi has been making brides' dreams come true for over 30 years using her intuitive, award-winning skills to create classic wedding gowns with a contemporary edge. Every gown is hand made by her team of patter cutters, seamstresses and hand-beaders in her Somerset based studio.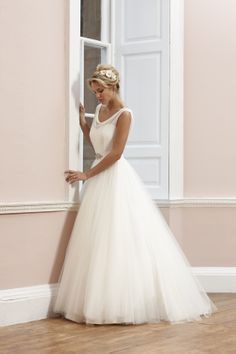 Her favourites dress from the Sassi Holford collection is Mimi, shown in the photograph, a beautiful ball gown with a full skirt made from layer upon layer of soft tulle that encapsulates modern romance in her words.
Missie is a favourite of hers from the So Sassi collection a chic, beaded, lace gown with high neckline, keyhole back and soft crepe skirt. It was designed by Sassi's 12 year old daughter, named Missie, who is obviously following in her mother's footsteps. This gown has been a huge success.
Being a wedding photographer for many years I seen many different wedding dresses. For each bride her choice of bridal gown will have often been made after trying on many dresses at several wedding retailers. Many times brides choose a dress that they didn't think would suit them; most brides have a picture in their mind of how they want to look on their wedding day from a very young age; they often surprise themselves.
The wedding dress is such an important element of every brides look and offers wedding photographers a chance to take some fashion style wedding photographs. This is an aspect of wedding photography I enjoy; to me there's nothing wrong with putting a bride in a pose that shows off her beautiful gown and there are examples of this in the galleries of the portfolio page on the Shah Photography website.