Being a wedding photographer based in Cornwall I work with many other businesses in the wedding industry here in Cornwall. Wedding flowers are important to get right from a wedding photography viewpoint
Shah Photography have covered many weddings featuring wedding flowers by Wheal Sara Flowers who are based at St Ives in Cornwall. Being wedding photographers we understand how important brides' choice of flowers is to enhance their look; essential for their wedding photography. Get the flowers wrong and your wedding photographs will be spoiled.
Wheal Sara Flowers' business approach is simple; offering an exquisite floristry service whilst doing something that we love, proprietor Lizi, has always maintained that what sets Wheal Sara Flowers apart from the everyday florist is excellent customer service. She feels that when creating floral wedding arrangements she does so with the utmost care, love and attention as she would if the flowers were for her own special day.
The feedback we receive from every single customer, from the smallest posy to the most exquisite of wedding bouquets, and their Wheal Sara experience is of the utmost importance to us, and is integral to our continual growth. For any modern bride looking to get married, we offer every aspect of floral design for you from the most important design being your bridal bouquet to a simple offer of thanks to Mum's of the Bride and groom.
We decorate churches, marquees, hotels, castles and will work with any budget no matter how big or small. The important points to remember regarding your wedding flowers is make sure you go for flowers in season and where possible locally grown, this will help with keeping your flowers within a good budget if your budget is tight and also keeps quality at the best it can possibly be,as make sure you tell us of any favorite or sentimental flowers you wish to include and if you can provide us with colour samples of dresses as it will help us to match up colours for you.
Wheal Sara Flowers were chosen by Lucy and Alex to be their florist. The beautiful flowers certainly enhanced their wedding photographs and were perfect for Lucy. The flowers do not dominate the photographs. The bride's bouquet and the bridesmaids bouquets looked lovely and were not too big or too small and they were not too heavy either. Brides beware heavy bridal bouquets will make your wrist ache. Here are a couple of Lucy and Alex's wedding photographs that feature the wedding flowers by Wheal Sara.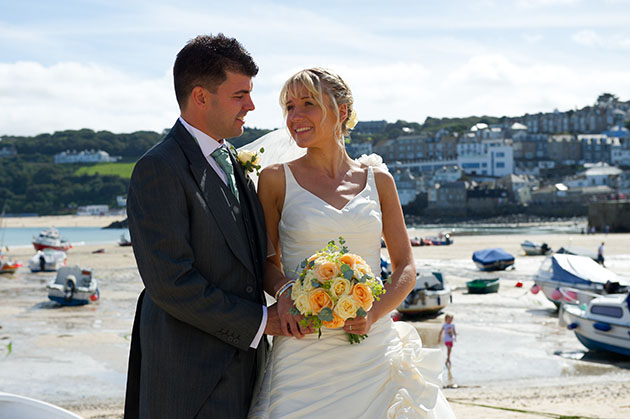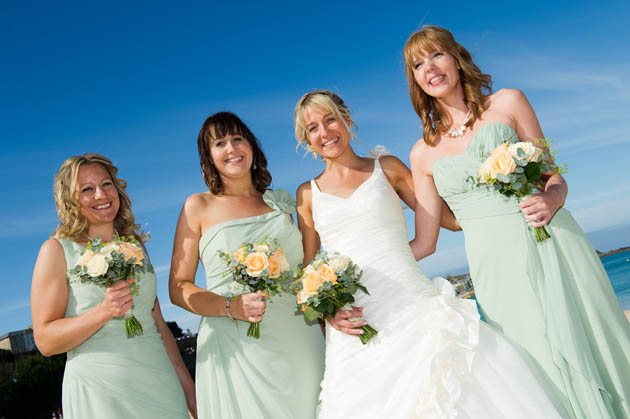 Remember to personalize your flowers to you i.e using items handed down from the family like broaches, rings etc we can attach these into your bouquet, along with initial pins if you wished.
Contact Lizi at Wheal Sara Flowers, 2 Bedford Rd, St Ives, Cornwall TR26 1SP Telephone: 01736 797788