St Ives wedding venue Tregenna Castle was the scene for Alex and Calvin's wedding. Alex is a wedding team member at Tregenna Castle and has been the wedding coordinator for many weddings I have photographed so I guess it must have been a strange feeling to arrange her own wedding at Tregenna; everyone worked together to give her and Calvin a great day; one they'll always remember.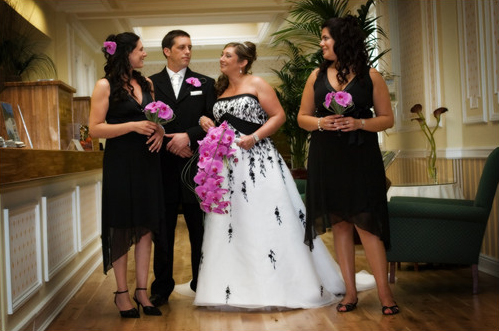 I was thrilled when Alex asked me to be her wedding photographer; she checked with her husband to be who said it should be me. Amazing; she's seen me photograph so many weddings and was a wedding guest at Terri and Mat's wedding about a month before her own, yet still booked me for her wedding photography - many thanks to Alex and Calvin. Terri was a wedding coordinator at Tregenna prior to her wedding.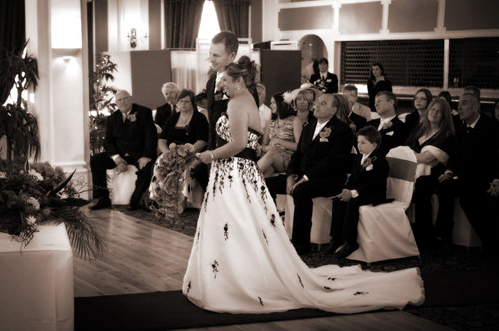 As you can imagine, many of the Tregenna staff were invited to their wedding and it was really good to see them relax and enjoy the day; Charlie, who's often the maitre d at many of the weddings held at Tregenna, had great fun with friends and colleagues - he's such a professional when at work and it was good to see him off duty having fun.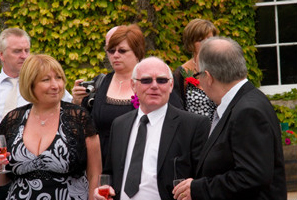 Could not believe the weather; their civil wedding ceremony took place in the Trelawney room, which caters for larger weddings followed by canapes and drinks on the lawn in front of the hotel - so far so good weather wise. Later we went down to the Tate Gallery and on to Porthmeor beach for some photographs with their dog, brought to the beach by a friend. Got some fun shots of Alex, Calvin and Ethan (their son) who looked very dapper in his suit. Beach shots are a great time for some relaxation for couples; it's usually the first chance they have to catch up on the days' events, before the evening celebrations get under way.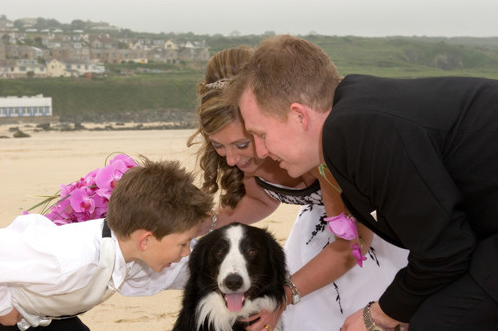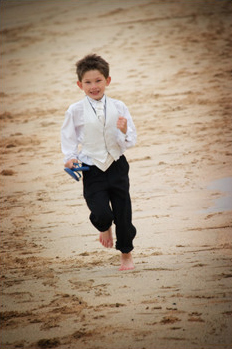 We went back to Tregenna for some shots in the grounds but couldn't see the hotel due to a thick mist that had appeared. This resulted in some quite strange shots the like I had never got before Alex and Calvin's wedding or since - just goes to show how unpredictable the weather in Cornwall can be. It didn't spoil their day at all as you'll see when I post some of the photographs in due course.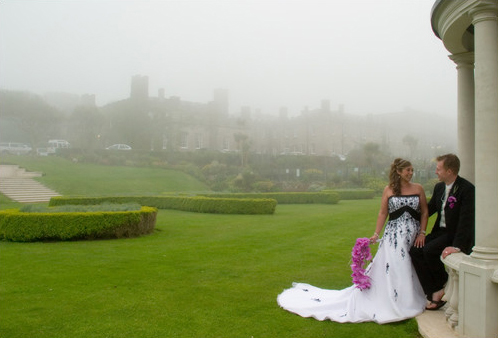 Everyone had fun on the casino tables prior to the rest of the evening entertainment provided by a great band called Heart and Soul who I've seen work at many evening wedding receptions at Tregenna, as the name suggests they focus on soul music. Alex and Calvin had very thoughtfully booked a room for Jacky, my wife, and I so I could have a drink or too which was great. Had a good few dances as well which I thoroughly enjoyed.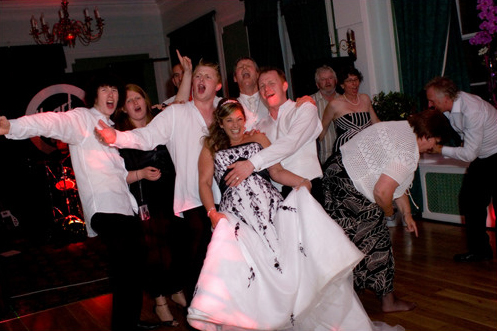 We were about the last to leave and were having a natter with the newly weds when Alex shot a glass of red wine down one of my favourite shirts which, being pale blue, I thought would be wrecked. Luckily a good rubbing with some soap when we got to the room meant there was no trace of the wine in the morning after the shirt had dried.
Really enjoyed the buffet breakfast and the whole wedding celebrations which were great fun to be a part of and to photograph; many thanks to Alex and Calvin.