What a wedding this was; a fabulous couple, Hannah and Harry, who I met a couple of days before their wedding day. They came to the studio for a meet and I knew their wedding was going to be very special.
There were so many personal touches that made their wedding the wonderful celebration enjoyed by everyone; I had such fun documenting their day. Natural, unposed, photo journalistic photography was the order of the day for this wedding. An outdoor ceremony for a couple who are so in love and so well thought of; the ceremony was done by a friend of the couple who is a registrar from Worcestershire. Prior to meeting the bride and groom to be I had spoken with Hannah in addition to exchanging emails and I new their wedding day was going to be a very a day with lots of their input. Unlike having a wedding coordinated for them they chose to add their own touches and their guests helped out big time.
I'll be doing a post about Rosteague Estate soon, this is definitely an outdoor wedding venue and Hannah and Harry enjoyed their outdoor wedding ceremony in glorious Cornish sunshine, surrounded by their guests who had all made the journey to Cornwall from different parts of England.
The bride and groom are both musicians and their wedding ceremony included music and an excerpt from a Midsummer Nights Dream. All the guests joined in singing Here Comes the Sun, the first civil wedding I have photographed with guests singing; it was a special and fun part of their wedding ceremony and provided great expressions and smiles for me to photograph.
After their ceremony everyone tucked into Cornish pasties before a trip down to the beach on one of the King Harry coaches which did three trips to get all the guests to the beach. I got some shots in the spot where Harry proposed to Hannah and everyone had a very relaxing time enjoying the sea views.
After the beach wedding photography we headed back to Rosteague Estate for a delicious Cornish cream tea with home made scones and jam. Afterwards the guests relaxed in the grounds and then it was time for the speeches then a delicious meal of a selection of curries.
After the wedding breakfast the bride and groom changed out of their wedding outfits and were on stage to entertain their guests. Again this was a first for me and was such fun for everyone; Hannah, Harry and their band play at wedding receptions and had great fun playing at their own wedding. I left with the party in full swing for my journey back home with my mind full of memories of a great wedding.
The bride, Hannah got ready in a room at Rosteague helped by her lovely mother and was joined by the flowergirls and some of her friends before the ceremony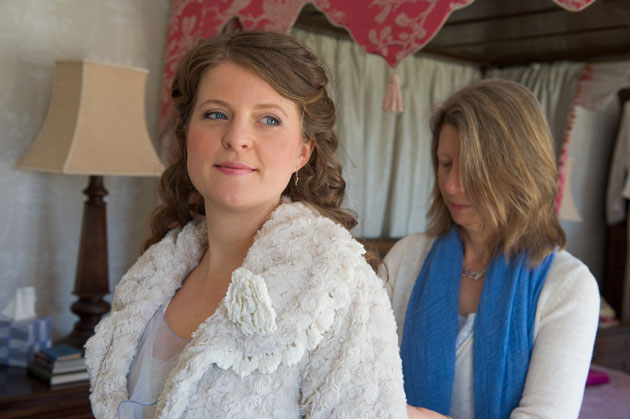 During their wedding ceremony Hannah and Harry laughed a lot, this photograph captures the spirit of their wedding day; relaxed, loose and above all great fun.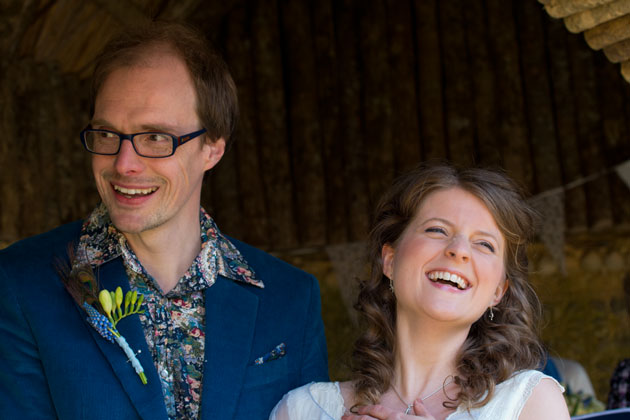 Documenting their wedding day was great fun; capturing natural expressions is a very special part of each collection of wedding photographs I create as I document each wedding day. Always on the lookout for great interaction like this photo of Hannah with her mother.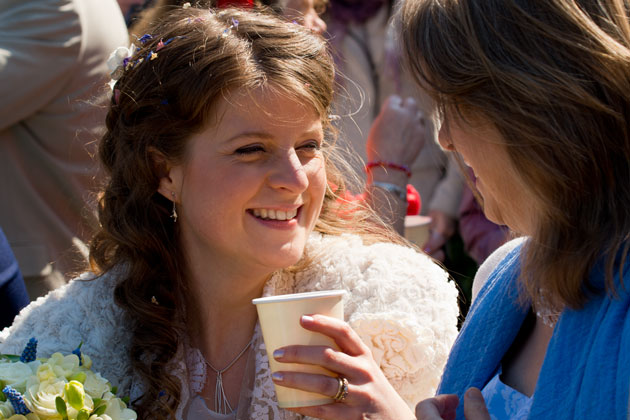 Cornish pasties were enjoyed by all as the guests were bathed in sunshine.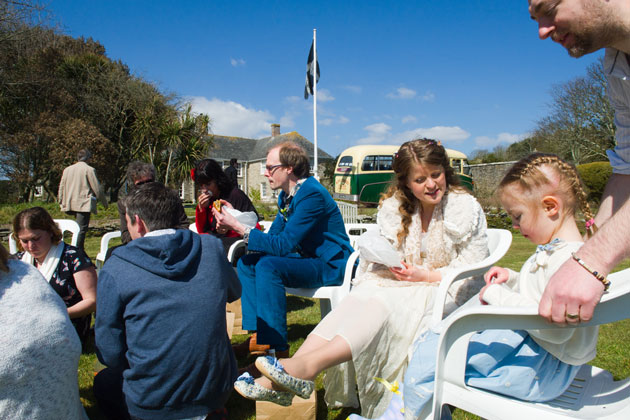 A photojournalistic approach to documenting weddings is such an important part of wedding photography. I wonder what Harry said to get this reaction from his bride.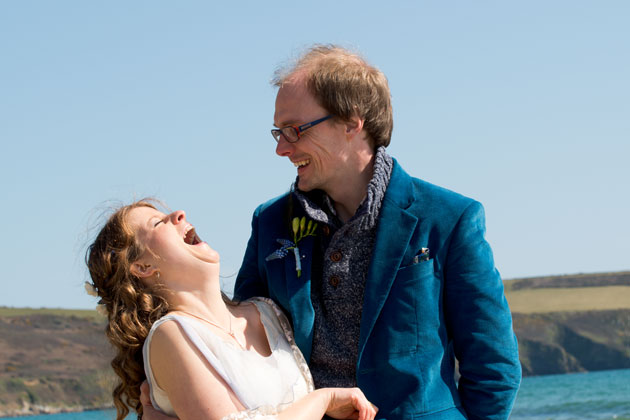 Beach wedding photography in Cornwall is a must - weather permitting. It's a great time to capture unposed shots to tell a pictorial story of the wedding day. I'm so glad Hannah and Harry chose to get married in Cornwall and better still booked me to photograph their wedding.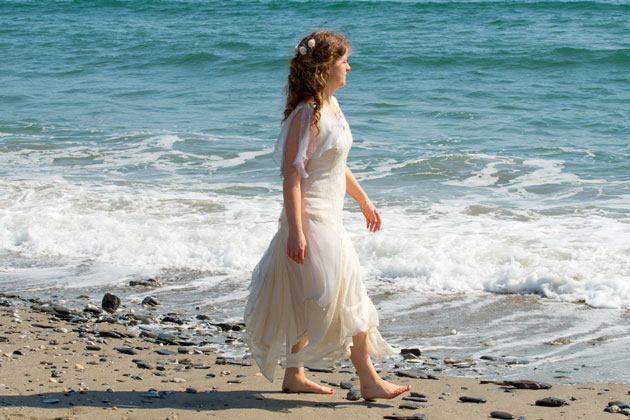 Wellies but no ordinary wellies for Hannah checkout these beauties.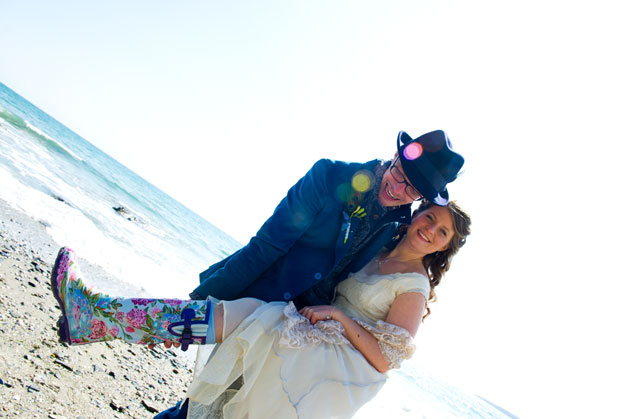 Most peoples' perception of group wedding photographs is staged, formal photographs with guests getting bored. Here Hannah, Harry and their guests show this doesn't have to be the case as they mess about for this group photo.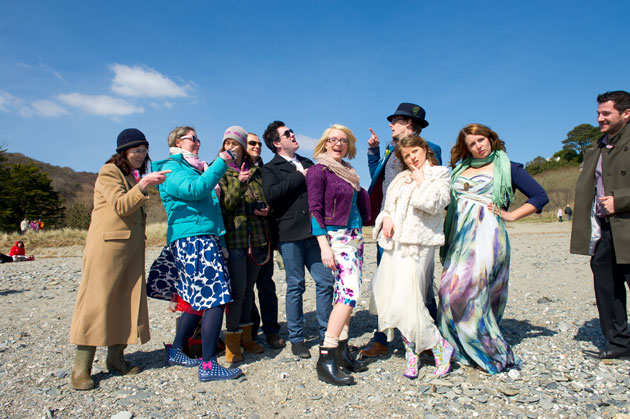 Cornwall beaches make such wonderful backdrops for wedding photographs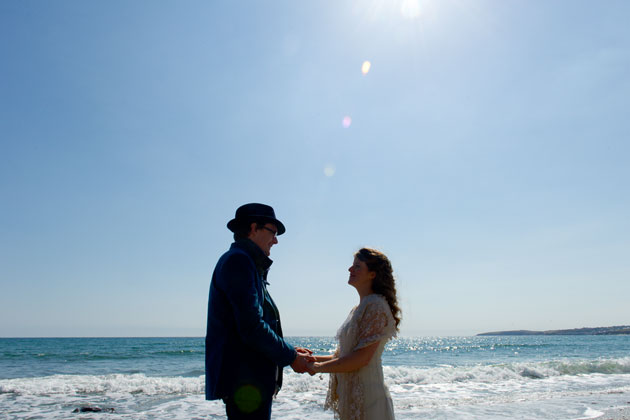 After having some fun on the beach everyone headed back to Rosteague Estate.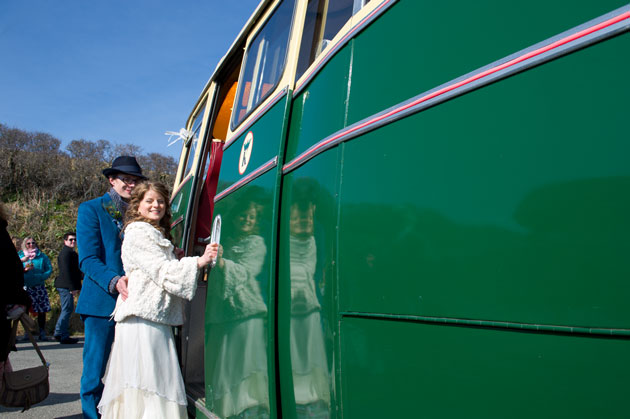 I was spoilt for choice, there were so many excellent locations for the wedding photography. In front of Rosteague House there's a huge rolling field with views out to sea.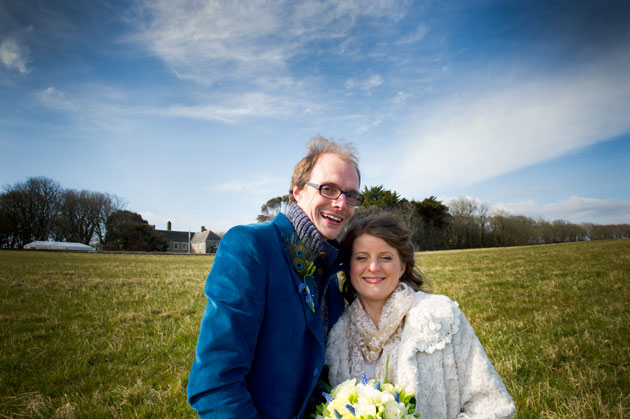 Very unusual gardens that date back to the 16th century are featured in this photograph as the bride and groom make their way to their wedding cream tea with their guests.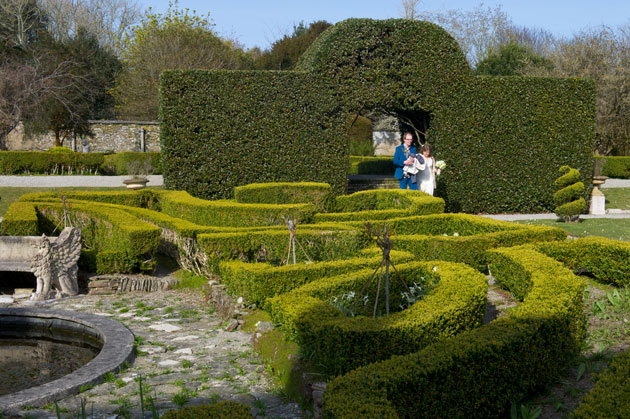 The speeches were excellent. The two best men put together an hilarious song which was appreciated by all the guests and provided wonderful expressions of joy for me to capture.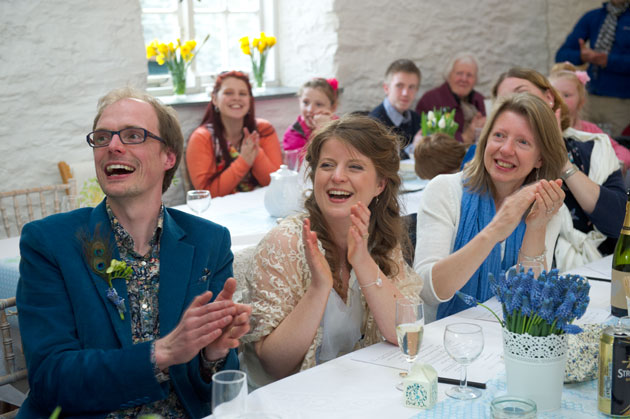 This was a first; with all the weddings I have photographed during my lengthy career as a wedding photographer this is the first wedding where the bride and groom entertained their guests. Bride, Hannah, sang whilst hubby Harry played base guitar. They played some great soul classics which everyone enjoyed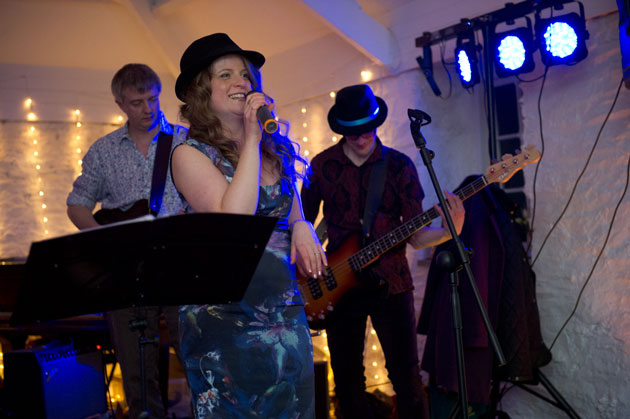 Hannah and Harry I wish you all the best for your married life. I thoroughly enjoyed documenting your wedding with so many differences and will be getting your online gallery completed soon.
If you're getting married in Cornwall and would like to discuss the photography of your wedding it would be great to here from you. I cover weddings throughout Cornwall and further afield.
Photographers Cornwall, wedding photography Cornwall, wedding photojournalism, reportage wedding photography, Cornwall weddings