Wedding flowers in Cornwall is run by hugely talented florist, Anna Trethewy Sawle who has designed the bride's bouquets, bridesmaid's flowers, the button holes and decorative flower arrangements at the wedding ceremony venues and reception venues for many of the weddings photographed by Shah Photography over the years.
Bride Catherine looks stunning with her flowers designed by Anna. The flowers for the marquee for this wedding were equally amazing.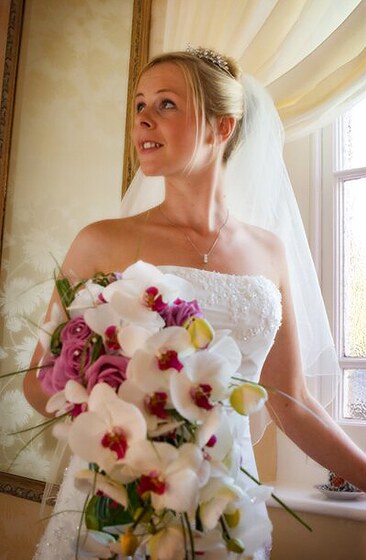 Anna is innovative with her flower designs and is at the forefront for wedding flower design and has been for many years. When she started her own business, Shah Photography were delighted to photograph her beautiful bouquets and wrist corsages for her promotion including her web site; her sisters made excellent models. Some years later Anna was asked to provide the flowers for a feature in a bridal magazine which was shot in the studio at Shah Photography. The feature was a great success and confirmed Anna as a leading designer of wedding flowers; there was so much variety in her work - truly amazing.
For this wedding at St Ives the theme colour was pink; the reception room looked amazing and I could here wedding guests gasp with amazement at how good the flowers made the setting look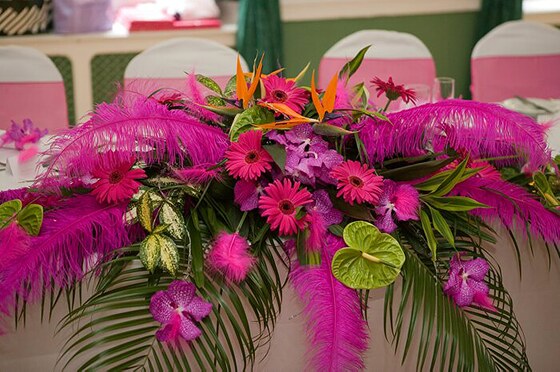 The feedback from our brides is always very positive and very complimentary, not just about her floristry talents but also about her enthusiasm and the caring way she ensure she exceeds customers expectations; she is a lovely person. I have known Anna for many years and it's so good to see how she has built up a very successful business specialising in wedding flowers. Her business is well established so you know she'll be in business to design your wedding flowers. I wish Anna continued success and will no doubt be supplying many photographs of her flower designs in the future.
Here are flowers in the marquee at Catherine's wedding to Anthony taking a back seat in this photograph which features Anna's amazing flower design skills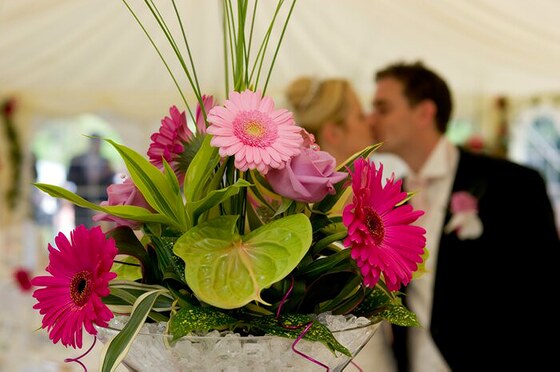 Shah Photography are delighted to have been chosen to photograph Anna's own wedding to Ollie; see some of the wedding photographs such a lovely wedding and Anna looked gorgeous; she was a very photogenic bride and as you can imagine she went to town on her own wedding flowers.
Natalie was originally going to get married in Cornwall but ended up getting married in Somerset. Shah Photography photographed her wedding and I took the flowers up with me that were designed by Wedding Flowers in Cornwall - team work to make sure our customers wishes are fullfilled. Anna amanged to provide flowers that matched Natalie's gorgeous dress beautifully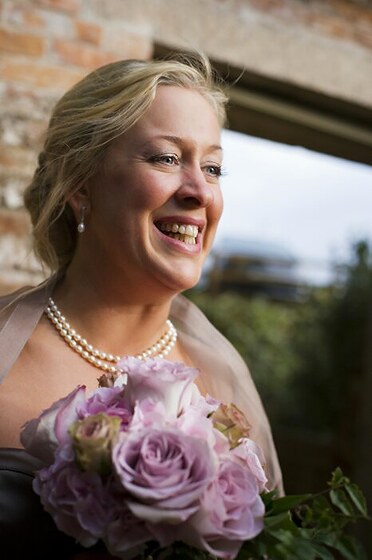 Wedding Flowers in Cornwall were also the chosen florist for Alex's wedding; Alex is a wedding co-ordinator at Tregenna Castle a wedding venue at St Ives that does masses of weddings. Shah Photography photographed Alex's wedding; it's so good to be chosen to photograph weddings for brides who work in the wedding industry.
Anna can be contacted on 01872 553080 you'll find her enthusiastic and very helpful with ideas for your wedding flowers in Cornwall
All photographs are by Shah Photography