Wedding venue Fowey Hotel in the picturesque town of Fowey was the setting for Zoe and Andy's wedding celebrations in Cornwall where they chose to get married. Zoe got ready at the hotel and had her makeup done by Linda of Bride the wedding dress and bridal wear shop in Penzance.
For this wedding my brief was to keep the photography mainly classic.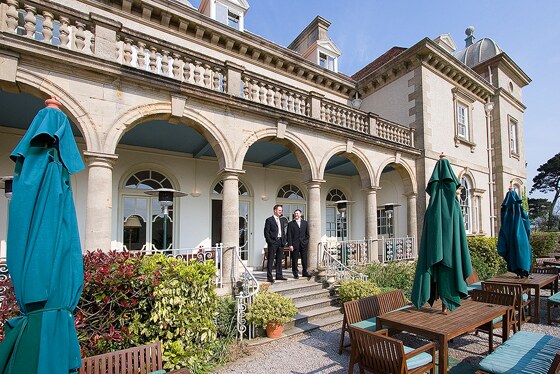 The ceremony was held in the drawing room after which everyone enjoyed drinks and canapes al fresco bathed in glorious sunshine, which always makes such a difference for weddings, as everyone was really relaxed and looking forward to a good day. Got some fun shots of the guests and some groups photographs; the hotel offers many different backdrops for wedding photography, which led us to the wedding breakfast.
The scrumptious wedding breakfast lived up to expectations; I am luckily enough to have enjoyed many weddings at the Fowey Hotel and the staff really looked after everyone including yours truly. We headed off to the nearby beach where the newly weds enjoyed some quality time together whilst I left them to relax and savour the moment, got some great shots of the two of them who were totally unaware the photographs were being taken.
With some great beach scene photographs in the can we headed back to the Fowey Hotel for the evening reception. Andy, is a cruise ship captain so all the wedding arrangements were left to Zoe; he approved of the choice of photographer commenting Zoe had made the right choice. Both Zoe and Andy and their guests had a great day and I wish them all the very best for their future life together.